Dermatologist & Skin Specialist
Aari Skin & Cosmetic Clinic
Best Tattoo Removal Treatment In Jaipur | Tattoo Removal Treatment In Jaipur
People get tattoos for many reasons, be it social, individual, or simply due to the fact that they like the style. Tattoos are ending up being much more mainstream, too, with face tattoos even growing in popularity.
Equally as there are lots of reasons individuals get tattoos, there are many reasons that individuals may wish to eliminate them.
Although tattoos are irreversible, this is just to an extent. They can be removed if you choose you no more desire them.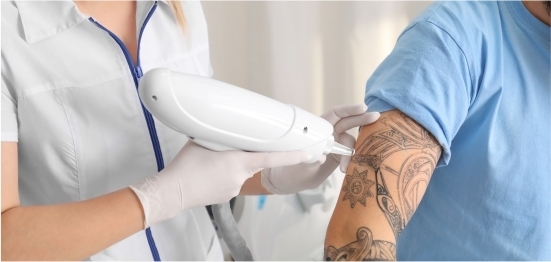 Treatment
Most experts think about laser removal to be the most successful and also cost-efficient means to remove tattoos.
Today, most tattoos are gotten rid of with a Q-switched laser. It sends power in one strong pulse. This pulse of power warms up the ink in your skin to liquify it.
You'll need to receive a variety of laser therapies over several weeks or longer to remove your tattoo.
Frequently, lasers do not entirely get rid of a tattoo. Rather, they lighten or fade it so it's a lot less recognizable. Get best treatment at aari Skin