Dermatologist & Skin Specialist
Aari Skin & Cosmetic Clinic
Best GFC Therapy In Jaipur | GFC Therapy In Jaipur
Various growth factors are stored in platelets (type of cells in our blood). Wockhardt's scientists have been able to extract these growth factors from person's own blood in high concentration as a GFC in specially designed Kits. This GFC therapy in Jaipur is injected into the scalp & skin (face and neck), thus, delivering person's own growth factors at high concentration right in the layers of skin. This results in stimulation of regeneration and repair. Get your treatment from best skin specialist in Jaipur visit Aari Skin clinic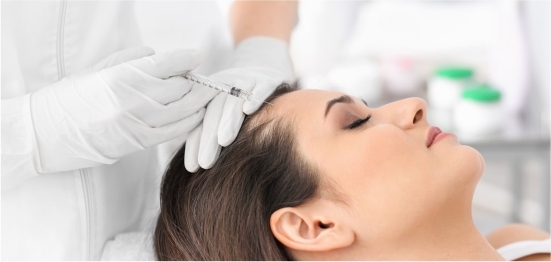 GFC therapy for hair loss
Alopecia or Hair Loss is common with increasing age can affect both men and women. Many factors contribute to this including hormonal imbalance, stress, nutritional deficiency, genetic conditions etc.
The current standard of treatment consists of oral or topical medications. Medication is required for an indefinite period, and effectiveness is limited by patient adherence and frequent side effects. Surgeries such as hair transplantation are generally reserved for refractory patients. Due to the varying efficacy and safety profiles of the present treatment modalities, there remains the need for additional treatments promoting hair regrowth.
This innovative GFC is injected into the scalp, thus, delivering person's own growth factors (e.g. platelet-derived growth factor, vascular endothelial growth factor, insulin-like growth factor 1, Epidermal growth factor etc.) at high concentration right at the hair root stimulating hair regrowth. It is highly safe as prepared from Patient's own blood without any contamination. To prepare GFC for hair loss treatment about 16 ml of person's own blood is required and it takes about 40 minutes for preparation to get about 7-8 ml of final ready to inject GFC output. Any candidate in their early or late stage of Alopecia as judged by the treating doctor is a fit candidate for GFC therapy and is equally effective in both males and females.
After three sessions of GFC, therapy effects are seen in terms of
● Reduced hair fall
● Improved hair thickness
● Increased in hair volume